SteamWorld Heist – Review (Switch)
It's the perfect game for the Nintendo Switch.
You're a robot in the future and the earth has been ravaged of all of its resources. Water is precious, so you head out on a heist to gather some more. Your mission is successful and, regardless of the bad guys you owe and the crew members they kidnapped, what's your first action?
That's right. Let's get a drink!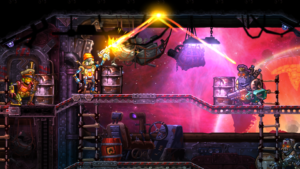 This is the opening for SteamWorld Heist, the not-quite-a-sequel to the stunning SteamWorld Dig and its highly regarded sequel from 2017 – SteamWorld Dig 2. We played SteamWorld Heist previously on another console, but its release on the Nintendo Switch has prompted us to do a proper review on the best console to happen to indie games since the Vita.
SteamWorld Heist is full of crazy robots with witty robots who's jokes you don't expect to laugh at, but you definitely will. The dialogue is both creative and charming, leaving us never hoping it will be over. Coupled with the "adults in Charlie Brown" mumble voice and a stunning soundtrack worthy of more praise than it has ever received, the soundscape in Steamworld Heist is sure to impress.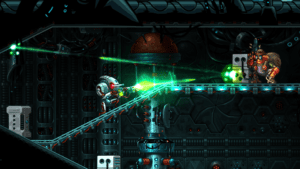 Unlike other games in the SteamWorld universe, this entry is turn-based combat and movement, causing some skill and foresight when it comes to maneuvering and planning. Move too far and you won't be able to shoot. Don't move enough and leave yourself exposed to the enemy, allowing them to blow you to smithereens in an instant. The fluid character movement of other SteamWorld games is gone, but that doesn't mean it is any less enjoyable. Assemble and recruit your team, then strategize your way to the end goal.
The strategy isn't all based on moving and shooting though. There are skills that various crew members possess that will have you wanting to put them in certain positions near others to accomplish certain goals. You can also choose to take more or less crew members on missions with you but the consequence will affect how much or how little experience (amongst other things) your crew members pick up.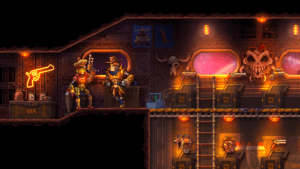 SteamWorld Heist has very few flaws, especially if a turn based robot strategy game is what you're looking for. If we must pick on something, it's the inventory system and the fact that you never have enough space for new equipment.
We think that SteamWorld Heist is the perfect game for the Nintendo Switch, and everyone who owns one should buy a copy. It performs magnificently and continues to impress, even with our previous experience on other consoles. Buy the game and get that drink.
SteamWorld Heist: Ultimate Edition on the Nintendo Switch is only $19.99 and includes content previously only available as DLC. It includes a new friends, missions, and tons of inventory bonuses.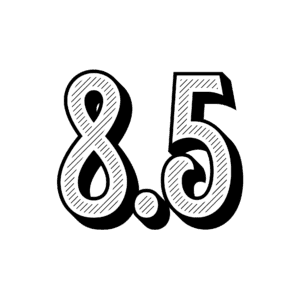 Author:
Ben Smith
Editor-In-Chief
Ben has been playing video games since he had a bottle in his hand. Whether that bottle was full of milk or Kentucky's finest bourbon is for you to figure out. He's owned every major console but most of them only as a pathetic excuse for an adult. Ben loves playing games when he's not spending time with his wife and two kids or otherwise occupied with eating cake.
Related posts: