Steamworld Dig 2 – Review (NS, PS4, VITA, PC/MAC)
If you hate fun you probably won't like Steamworld Dig 2. 
This review may contain slight spoilers for the original Steamworld Dig.
Steamworld Dig was one of the most notable platforming puzzle games in recent history. It stood out due to its unique mechanics, its linear-yet-open progression, and its simple but creative story. The only problem with the original Steamworld Dig? It was way too short.
The sequel, Steamworld Dig 2, is perfect in all the same ways as its predecessor while expanding on what made it great. At around twice the length, it will also scratch that itch for a bit longer than the first entry in the series.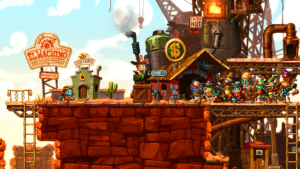 You control a character named Dorothy. She's on a mission to find Rusty, the main character from the original, who has gone missing. Something is awry. Dorothy has never been under the surface before, so she has to learn all the tricks of the trade before you can get started. This serves as a great tutorial as well as a perfect entry point for someone who has never played the original Steamworld Dig.
The main gameplay of Steamworld Dig 2 is… well, digging. It takes place in a post-apocalyptic steampunk setting and the earth around you is pretty desolate, as are the characters. Most every character you'll encounter is a robot of some type, and the dialogue functions as a soothing drone of undecipherable sounds. Don't worry, there are subtitles.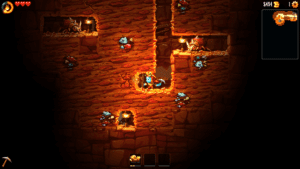 Even though the story of the original game was great, it wasn't nearly as focused or driven as Steamworld Dig 2 seems to be. There's a definite purpose to your actions, and all of the NPCs have a bit of life in them. This game certainly bridges the gap between the two games, and expands on the world in a fantastic way.
When you're digging, you need tools, right? You've got plenty of them, and you'll continue to gather more as you progress. You'll start out with a pickaxe – the main tool of your trade. Throughout your game you'll be able to level it up, as well as many other weapons, armor, and accessories using a combination of discovered gears and money earned by turning in mined materials. As fun as the leveling up aspect is, this does create a sometimes frustrating dilemma. If you gather many materials without returning to town (which is sometimes rather inconvenient) you could die – or get scrapped as the game puts it – and lose said materials without being able to cash them in. The great thing is that loot is plenteous, and you should never have a hard time finding exactly what you need.
Digging is repetitive, but never tedious. There's something satisfying about clearing out an area strategically, whether it is to get to some treasure, kill an enemy, or make your way towards a checkpoint. You'll use a combination of tools to make your way through the caves, easily switching between each one with what feels like the greatest of ease. The controls (we reviewed on the Nintendo Switch) are simple and intuitive.
As much exploration as there is in Steamworld Dig 2, there is just as much, if not more, enjoyment in the puzzles that you'll encounter throughout the world. The environment and enemies are against you, and battling puzzles as you fight them makes for really interesting gameplay. There are also caves, which essentially act as bonus rooms, that are a blast for platforming and a little bit of thinking.
Steamworld Dig 2 has an amazing soundtrack as well. You'll find yourself humming along and, even though the songs are a little repetitive at times, they always seem to pair well with what is happening around you.
Recommendation
If you're a fan of exploration, digging, platformers, puzzles, or the first Steamworld Dig game, there is absolutely no reason whatsoever that you should sleep on buying Steamworld Dig 2. Its unique mechanics and innovative gameplay is a treat you don't want to miss.
At $19.99, you can't go wrong. Steamworld Dig 2 is available on the following platforms;
– Nintendo Switch: September 21
– PC/Mac/Linux: September 22
– PS4/Vita: September 26
/27
If you hate fun (or the first Steamworld Dig game wasn't your thing) you probably won't like Steamworld Dig 2.
Score – 9.0/10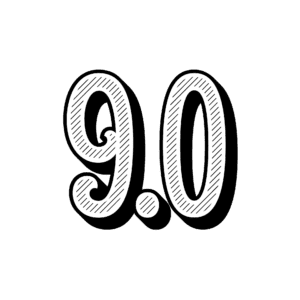 *Steamworld Dig 2 was provided to the reviewer by the publishing company but this fact did not alter the reviewer's opinion*
Author:
Ben Smith
Editor-In-Chief
Ben has been playing video games since he had a bottle in his hand. Whether that bottle was full of milk or Kentucky's finest bourbon is for you to figure out. He's owned every major console but most of them only as a pathetic excuse for an adult. Ben loves playing games when he's not spending time with his wife and two kids or otherwise occupied with eating cake.
Related posts: