The idea of taking the entirety of 2017 and narrowing it down to five games that sum up just how brilliant the year was can be a terrifying venture. We recorded our game of the year podcast this week and coming up with a collective top ten was no easy feat either. After a lot of overthinking and countless nights of self argumentation, I've finally come up with my list of five. Without further adieu, I present to you my favorite games of 2017.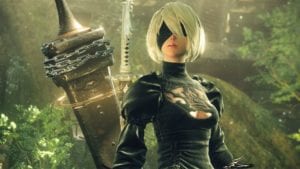 Nier Automata:
Nier Automata could have been a "blink and you'll miss it" forgotten game. Thank God we live in a technological age where Twitter and other forms of social media exist. Anyone who played Nier shouted its praise so loudly that the game couldn't be overlooked. A game like this only comes along once in a generation.
While the brilliance of Nier lies in the storytelling, the soundtrack may be what the game is remembered for the most. Taking home the award in this category at The Game Awards, the soundtrack is haunting and will be encased in your mind for a very long time. This is story telling at its finest and is so well done that to go into any detail would be considered spoiler territory.
If the game has any fault, it comes in the form of the "multiple endings." Anyone that only played through the first "play through" is doing a huge injustice to themselves and should get right back in there when the credits roll. The first time you see the credits the game is just getting started. If you stick around until the very end through the multiple sets of credits, you will be changed in a powerful way.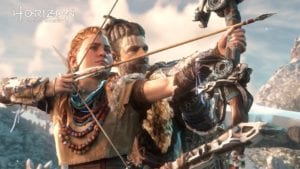 Horizon Zero Dawn:
Sony had been pushing Horizon Zero Dawn to the point of nausea in the year leading up to its release. With this kind of pressure on Guerrilla Games' new IP it had to be the next big thing for Sony. Uncharted had just said goodbye to Nathan Drake and they desperately needed Aloy to fill his ginormous shoes. Could the studio best known for the only decently received Killzone franchise actually answer the call?
The answer was an astounding YES.
The game excels on every level. First and foremost it is the most beautiful game of the year, hands down, it's just a gorgeous site to behold especially on the PlayStation 4 Pro. The combat feels amazing and the world feels alive. The narrative was way better than expected and the machines that have over populated the world, sending mankind near the brink of extinction, are magnificent. Each one is fascinating and incredibly fun to take down. By releasing their DLC at the end of the year Guerrilla made sure their game was relevant at the beginning and end of the year. Personally, the main campaign was the first game I completed in 2017 and The Frozen Wilds became my final gaming experience of the year. I'm already eagerly awaiting the news of a sequel. PSX 2018 perhaps? Here's hoping.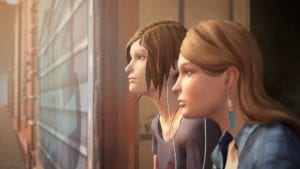 Life is Strange Before the Storm:
Life is Strange Before the Storm is everything that a prequel should be. It takes nothing away from the original game yet what they have added makes that game even better. If you have played Life is Strange this is a must play. I've tried to promote this game every chance that I get. The potential was there to make a mediocre cash out, yet the care put into the game made it a standout in a very crowded year.  Rarely is a sequel given this much love and fans of the series have held on to every moment of this game.
Through this journey we get to learn more about Chloe and see what led her to be the person that she is by the time Max's story begins, and we get to fall in love with Rachel and see why she had such an impact on Chloe. When the credits finally rolled at the end of episode 3, I felt such a plethora of emotions all at once. Anyone who tries to tell you that video games aren't art should look to games like this and reconsider.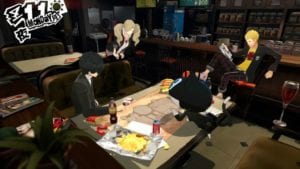 Persona 5:
Persona 5 is the only game on this list that I haven't completed. Knowing that, the fact that it is on this list is a testament to how great the game actually is. While the game takes maybe 80-100 hours to complete, there is so much fun to be had that even if you've only played  30 or 40 hours of the game you still feel like your time was well spent. There is no other franchise quite like Persona. It's a high school sim, intricate JRPG, a dating sim, a time management sim, a stealth game, an action RPG, and a supernatural thriller all rolled into one incredibly beautiful package. I will finish the game in 2018, but enjoyed my time with it thoroughly to this point. If you only have the time and money to play one game this year you should absolutely consider Persona 5.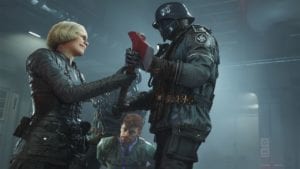 Wolfenstein 2: The New Colossus:
Rounding out my top five is Wolfenstein 2: The New Colossus. Bethesda has published the best First Person Shooter two years running. Having the huge hit Doom last year, Machine Games modern classic takes the crown this year. While Wolfenstein: The New Order was a fine game, The New Colossus ramps up everything to eleven! It has some of the best characters in video game history and a story that will having your full attention until the very end. At times you will feel anger, hate, and downright uncomfortable, but it is never unwarranted. You will travel on a journey with B.J. Blazkowicz that is as heartbreaking as it is beautiful. By the time the incredibly annoying end credits song begins to play, you'll be begging for the inevitable third and most likely final chapter in this unexpectedly brilliant saga.
A few honorable mentions this year go to Nintendo. This year we saw them come back to form with the release of the highly successful console, The Switch. The Switch has already given us a treasure trove of games including Splatoon 2, Zelda Breath of the Wild and Mario Odyssey. Each of these games would be included in a more expanded top ten list for me personally, so I would feel remiss if I didn't at least mention them here.
As we tip our  Cappy one last time to 2017 we remember all of the good times we've had and new friends we've made along the way. This was a banner year for the video game industry and the proof is not only in the games, but in the quality of this years Game Awards show. The industry has never been stronger and there is no reason to believe that 2018 can't be just as great. I for one am counting on it.
Check out our other Game of the Year 2017 articles here!
Author:
Phil Neyman
Philip is better at buying video games than he is at playing them. He was once told "it must suck to love something so much and be so terrible at it." As a boy he would write terrible poems about himself and Ross Perot. He enjoys the best and worst of all forms of media, but nothing in the middle. Puyo Puyo Tetris has almost caused unreconcilable differences between him and his wife. He's never had a hangover, but not from lack of trying.
Related posts: