2018 Has Big Shoes to Fill!
2017 will go down as one of the best years in video game history, but at this point that's old news. As we look ahead at what 2018 has to offer, we ask the big question – can 2018 even touch the hem of 2017's garment? While we won't know that answer in full until the games continue to release this year, we can look at what is to come and speculate. So, goodbye 2017 and hello, 2018. Here's to hoping you can blow 2017 out of the water and continue to lavish us with great gaming experiences.
Sony arguably had the best software lineup in 2017 and, while Nintendo gave them a run for their money during the first year of The Switch, the quantity of quality games that Sony first party studios released was unprecedented.
GOD OF WAR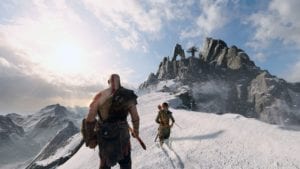 When Sony and 2018 are brought up one of the first games on everyone's lips is God of War. Drastically changing direction from the previous entries in the series, God of War leaves behind the Greek mythological roots of the series and moves into the rich history of the Norse gods. Taking place a few years after the destruction of the Olympian gods, Kratos and his son Atreus are now in a fight for their lives as the Norse gods learn of the part that Kratos played in the destruction of the gods. Upon its release on April 20th, you can almost guarantee it will be one of the best selling games on Sony's console this year.
SPIDER-MAN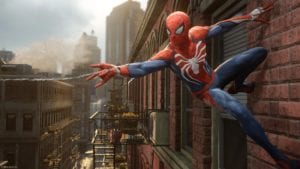 When word got out that Sony had a Spider-Man console exclusive on their hands, the first studio that came to mind to tackle such a huge project was Sucker Punch. Their work on the Infamous franchise made them the clear cut favorites to tackle everyone's favorite friendly neighborhood super hero. While we now know that they are hard at work on Ghosts of Tsushima, at the time it seemed likely.
Enter Insomniac Games…
While at first it seemed a little odd that they would be the studio to handle this project, upon further review it makes a ton of sense. Ratchet (of Ratchet and Clank) zips around the world like Spider-Man and Sunset Overdrive may be the most under-appreciated game this generation. Sony's faith in Insomniac appears to have paid dividends. Spider-Man looks great. So far we have only seen little more than some extended gameplay at E3, but it has been enough to excite everyone. This is definitely going to add to Sony's first party line up in a powerful way. 
DETROIT: BECOME HUMAN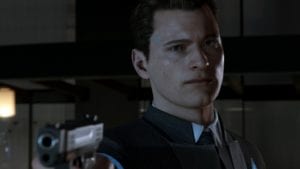 The next Sony exclusive to look out for is Detroit: Become Human, which we had the chance to preview this year at PSX. With all of the heavy hitting PS4 games expected in 2018, this is the only game with which we have had extensive hands-on experience. Multiple demos have showcased the different stories that come together to make up Detroit. These demos have answered questions about gameplay and the extensive decision making that goes into the game, but also led to even more questions. Does each character have their own set of gameplay mechanics? Do all of the stories come together? Arguably the best looking game coming this year from Sony, all of these answers and more should be available early this year when the game is released on PS4.
DAYS GONE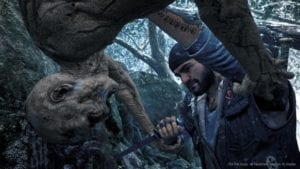 Sony Bend hasn't released a game since they worked on Uncharted for the Vita way back in 2011-2012. So for years we waited patiently to see what they were going to be creating next. Last year we finally got our answer – Days Gone. 
Days Gone feels like an interesting cross between games like The Last of Us and Horizon Zero Dawn. Set in a post apocalyptic world where another zombie like creature has been unleashed upon the earth, our motor cycle riding hero must rid the earth of these nightmares while surely finding himself along the way. Set in a more open world than The Last of Us, Days Gone appears to have the same tone, yet be larger in scale when it comes to the world that they inhabit. Hoping for a release this year, it will be great to finally see what Bend has put all this time into and get to play the final product.
These are the four games that Sony gave the largest booths to at PSX 2017, even though only one of them had a playable demo. If all four of these games release in 2018 Sony will have another monster year. Add that to their ever growing library of VR games (where they are expecting to more than double their library in 2018) and they are set for dominance.
TROPICO 6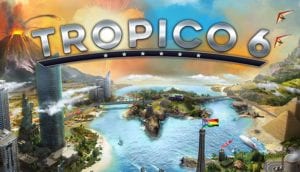 When Tropico 6 was announced during the Sony conference at E3 I'm pretty sure that was the loudest gasp that we at Handsome Phantom made during the presentation. Sure the whole event was void of big reveals, but this was a big deal to a lot of people. Taking the formula established in Tropico 5 and building on it makes 6 very intriguing. While playing through Tropico 5 it was very clear that you could be rich or popular. This time around it will be possible to be both. That is a minor yet huge change in the formula and one that excites us greatly. Look for these updates and more when Tropico 6 releases later this year.
NINTENDO
Nintendo hopes to build on the success of the year they had in 2017, but so far they have been very tight-lipped on their 2018 lineup. We know that a new Kirby game is coming is coming March 18, dubbed Kirby Star Allies, but that is really the only new release first party game we have a date for as of now.  They also announced Mario Tennis Aces, yet no release date has been announced. Nintendo recently announced that Switch ports of Bayonetta, Bayontetta 2, Donkey Kong Tropical Freeze, The World Ends With You, Hyrule Warriors, and Dark Souls are also on the way. While none of these are new titles, Nintendo fans should all be excited for each and every one of these.
Nintendo has all but admitted defeat when it comes to the Wii U and is now bringing their best titles to the Switch. They are also committed to bringing hardcore gamers to their new platform. Games like Doom and Dark Souls proclaim this in a huge way. Though information is scarce to this point, we'd all but guarantee that the big N isn't done announcing their 2018 line up and should have some huge surprises in store for us leading up to and at E3.
The wild card this year is Microsoft. While 2017 was a great hardware year for them it was incredibly light on software. With the shiny new Xbox One X out on the market, now is the time for them to bombard us with games.
Microsoft does have a couple potential heavy hitters coming this year which should help them sell more consoles this year – Sea of Thieves and Crackdown 3.
SEA OF THIEVES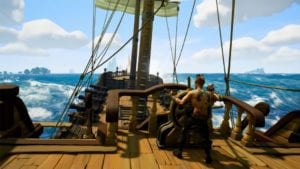 Sea of Thieves looks like it could finally be a return to form for Rare, a studio best known for their work on the Nintendo 64 before Microsoft bought them and made them one of their first party developers. After some very forgettable games released for the Xbox 360 and Kinect, they desperately need a hit. Sea of Thieves looks to have the social experience of Destiny, but you get to live out the fantasy of life as a pirate. The game has been a huge hit at trade events like E3 and, with the closed beta that from January 24th until the 29th for anyone who pre-ordered the game, we now have an idea how the game will resonate with fans. With a firm release date of March 20th, it is one of the few games on this list we can actually guarantee will come out this year. Not only will it release physically and digitally, it will also be available "day and date" on Microsoft's Game Pass. This is a huge way for Microsoft to start the year.
CRACKDOWN 3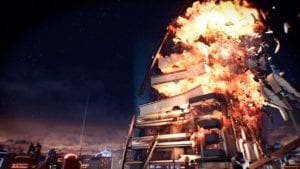 On the other end of the spectrum for Microsoft is Crackdown 3. This has been my most anticipated game of the year three years running and that should give you an indication as to how sure we are that we finally will get our hands on the game this year. Our Editor-In-Chief wrote an article about how much we don't need this game, but still really want it. The Crackdown franchise is long overdue to make a comeback and 2018 will hopefully usher it in for a new generation of gamers. For a game in production as long as this one, we've seen surprisingly very little of it. Expect more of the same though from Crackdown 3. I know that if and when this game ever launches, the Handsome Phantom crew will be squading up online for some explosive and destructive Co-Op.
RED DEAD REDEMPTION 2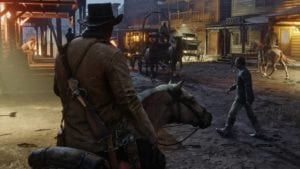 The biggest third party game of the year and possibly most anticipated game of the year for most is Red Dead Redemption 2. Don't let the game awards fool you by giving this award to The Last of Us 2, we would be shocked if that title hit shelves this year – pleasantly shocked, but shocked all the same. Rockstar does nothing but put out monster hit after monster hit and riding the success of Grand Theft Auto Online will only help increase the hype level surrounding Red Dead. Red Dead Redemption was arguably the best game of the last generation. The wild west is the perfect setting for an open world adventure. Barring some unforeseen catastrophe, Rockstar has a can't miss hit on their hands.
INDIES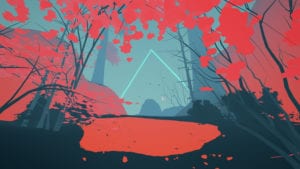 2018 should also be a huge year for indie games. Many of these games will find a home on the Switch, but Sony is still poised to have a fair share of indie games as well. Shape of the World, EarthNight, Crossing Souls, Super Meat Boy Forever, Guacamelee 2, The Gardens Between, Donut County, MOTHERGUNSHIP, Fantasy Strike, Flipping Death and many many more will find their way into your home and heart this year. So while trying out all the Triple A games that may come out this year, make sure you give some indie games a shot as well. There are generally always some gems hidden there.
Does 2018 have big shoes to fill? Absolutely. I, for one, think that it is up for the challenge. No matter what console you choose to play on this year you're all but guaranteed to have a great time. What other games are you looking forward to this year? Let us know and get out there and play some games!
Author:
Phil Neyman
Philip is better at buying video games than he is at playing them. He was once told "it must suck to love something so much and be so terrible at it." As a boy he would write terrible poems about himself and Ross Perot. He enjoys the best and worst of all forms of media, but nothing in the middle. Puyo Puyo Tetris has almost caused unreconcilable differences between him and his wife. He's never had a hangover, but not from lack of trying.
Related posts: