Long Shot Breathes New Life Into the Madden Franchise
The new mode is a breath of fresh air.
Any annualized game series runs the risk of becoming stale and implementing the same cookie cutter designs and features from year to year.  Games like Call of Duty have tried their best to break this mold by having three developers create the Call of Duty games, giving each game a 3 year development cycle.  Though this helps, they can't avoid their games feeling alike in many ways.  Hopefully with a change in setting and the return to the past, Call of Duty WWII will be a fresh coat of paint for the franchise – but I digress.
A franchise that was in desperate need of change was the Madden NFL series.  Dating back to last generation, Madden games have seen precious little change. While the core gameplay of the series remains largely unchanged in Madden 18, the new single player campaign called Long Shot is just what the doctor ordered.
Long Shot has more in common with a game like Life is Strange than it does the game to which it is attached.  While Long Shot is part of the Madden world and focuses on football, very little football is ever played in this mode. Game play is made up primarily of making choices before time on a meter runs out. The decisions that you make will directly impact what happens to your character as the story progresses.
There are multiple endings to this mode. However, there are instances that if you fail a task or things don't go as planned, they will have you retry certain parts to lead you to the outcome for which you are destined. While this rarely happens, it's a nice fail safe for players who fail at tasks that need to be completed to move on.
The character you play as, Devin Wade, was a high school standout and NFL hopeful. Devin has his entire world shatter as personal tragedy leads to his departure from the game he loves after only 4 games into his college career. They spare no expense and really go all in by hiring legitimate actors to play the roles in the game.  JR Lemon plays Devin and Friday Night Light's Scott Porter plays his best friend and NFL hopeful Colt Cruise. Devin's father is played by the recent Oscar winning actor Mahershala Ali.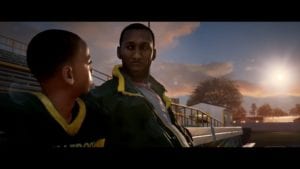 While trying to make their way back to the NFL combine as draft hopefuls, Devin is enlisted to star on a reality television show, aptly named Long Shot, that will document his path to the draft. The game takes you on a roller coaster ride from there with plot points pull of spoilers that we'll try and divulge as little as possible. Devin has a hard time and needs the playbook simplified for him in a similar way that Cam Newton did his rookie season in the NFL. Long Shot does a great job of adding these little details into the game to remind you that you are actually playing a madden game.
As the game progresses, we follow Devin and Colt as they try and prepare Devin for the NFL – but we also play through many flashbacks giving us glimpses into both of their past lives that led them to this point.  These moments bring some of the high points of the game and can be downright emotional at times.  Who would have ever believed that you could actually tear up from playing Madden?
The soundtrack is another standout here. With more indie hits than we are used to in the franchise, bands like Band of Horses take center stage here as opposed to the barrage of rap that we hear playing while playing through an NFL season in Madden. The soundtrack again harkens back to games such as Life is Strange and add to the emotional highs and lows in Long Shot.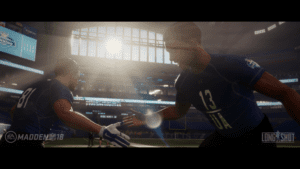 Long Shot is essentially a sports movie that you get to play and interact with. With a play through taking about 6 hours and multiple possible outcomes, there is plenty here to keep you busy.  When finishing Long Shot you still have the core Madden Game to play which has never looked better since making the jump to the Frostbite engine.  Don't be surprised to see Long Shot available down the road as  standalone DLC.  It almost feels as though it could have broader appeal than Madden 18 and people will probably want to check out this mode even if they are experiencing Madden Fatigue. I know it brought me back to the franchise for the first time in five years and I'm extremely glad that I gave the game a chance in such a crowded and incredible year of gaming.
Author:
Phil Neyman
Philip is better at buying video games than he is at playing them. He was once told "it must suck to love something so much and be so terrible at it." As a boy he would write terrible poems about himself and Ross Perot. He enjoys the best and worst of all forms of media, but nothing in the middle. Puyo Puyo Tetris has almost caused unreconcilable differences between him and his wife. He's never had a hangover, but not from lack of trying.
Related posts: